HMS Vanguard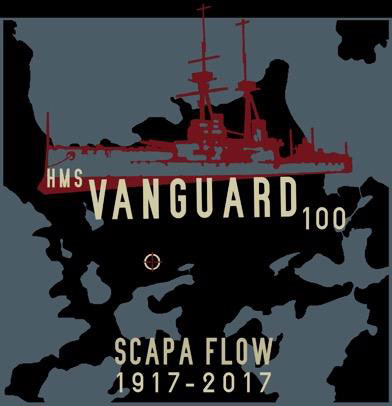 HMS VANGUARD was a dreadnought battleship of the World War 1 (WWI) era. She was built by Vickers of Barrow-in-Furness, launched in 1909 and commissioned in 1910 into the First Battle Squadron. At approximately 2320 on the 9th July 1917, while at anchor in Scapa Flow, Vanguard suffered a series of catastrophic explosions. The ship and 843 of her crew were lost. The resulting Royal Navy Court of Enquiry concluded an unintentional cordite explosion caused the loss of HMS VANGUARD, making it the largest accidental loss of life in the Royal Navy during the 20th century.
Today the wreck of HMS VANGUARD lies in approximately 34 metres of water just off the north coast of the island of Flotta in Scapa Flow, Orkney. The site was legally salvaged between the 1957 and 1975. In 1984 the ship was officially recognised as a war grave. Little recreational diving has ever taken place on the wreck of HMS VANGUARD prior to her becoming a controlled site in 2002 where all diving without permission was banned.
The HMS VANGUARD 100 Survey was conducted between October 2016 and February 2017 under special licence from the Secretary of State for Defence. Remote survey techniques were used to identify the extent of the wreckage and debris field. Specialist divers, including experts in munitions and explosive effects, conducted an underwater survey of the entire site using underwater forensic mapping techniques. The wreck was documented using videography, stills photography and 3D photogrammetry.
The survey was self-funded and conducted by volunteer professional divers. All diving took place from MV Huskyan. The purpose of the survey was to document this protected war grave at 100 years underwater.
We were delighted to be the licence holders and organisers of this survey. The full survey report is available to download here:
Just fill in a few details below and we'll send you a link to access it.