HMS Hampshire Report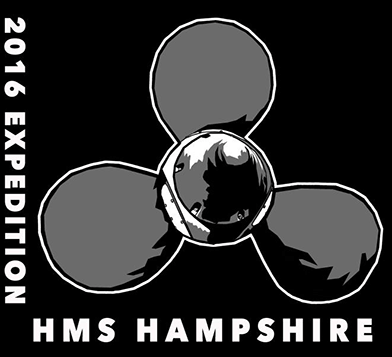 HMS HAMPSHIRE was a British 10,850-long tons pre-dreadnought Devonshire-class armoured cruiser launched on 24th September 1903, completed on 15th July 1905 and commissioned one month later. She fought at the Battle of Jutland on 31st May & 1st June 1916 before returning to the Royal Navy Grand Fleet base at Scapa Flow in Orkney, off Northern Scotland.
On 5th June 1916 she departed Scapa Flow on a secret mission carrying the British Secretary of State for War, Lord Kitchener, and his staff to Archangel in northern Russia to discuss war aims and strategy. En route, some 1.5 nautical miles north west of the sheer cliffs of Marwick Head, north west Orkney, at approximately 2040hrs BST, she struck a mine laid by the Type UE 1 German submarine U 75 early on the morning of 29th May 1916 during German preparations for the Battle of Jutland. HMS HAMPSHIRE settled quickly by the head, rolling over to starboard. She capsized and sank some 15 minutes after hitting the mine. 737 men were lost, including Lord Kitchener and his staff – there were only 12 survivors. Great controversy raged at the time and for many years after as to the cause of the explosion and many speculative publications as to the cause of the sinking followed.
The wreck was designated a Controlled Site under the Protection of Military Remains Act 1986 (Designation of Vessels and Controlled Sites) on 30th September 2002 and no diving has been permitted on her since that date.
Rod Macdonald was granted a licence in 2016 by the UK Secretary of State for Defence to conduct an underwater diver survey of the wreck for the 100th anniversary of her sinking, and co-organised the expedition with Paul Haynes, Emily Turton and Ben Wade. Specialist divers conducted underwater surveys of the entire site using underwater mapping and forensic diving techniques. The wreck was documented using videography, stills photography and 3D photogrammetry.
Just fill in a few details below and we'll send you a link to access the report.